FORCE BLUE Honored at Blue Mind Summit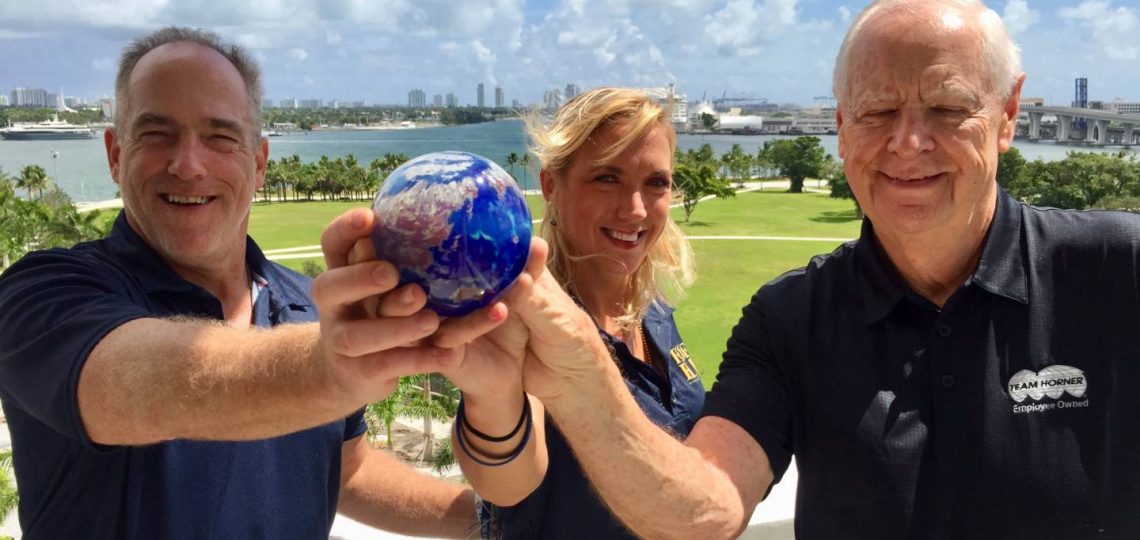 FOR IMMEDIATE RELEASE
FORCE BLUE Receives 5th Annual Blue Mind Works Award at the Phillip and Patricia Frost Museum of Science
MIAMI, FL – October 10, 2018. Wallace J Nichols PhD presented the 5th Annual Blue Mind Works Award to Nicole Rosga and Jim Ritterhoff of FORCE BLUE at the 8th Annual Blue Mind Summit held in Miami, Florida on October 4th where the theme was "Water Is Medicine". The award recognizes an individual and/or organization for efforts that mechanize positive change in their community by putting Blue Mind science into action.
The FORCE BLUE team has connected the dots between ecological and emotional health and the benefits an active, regenerative, service-oriented aquatic lifestyle. Their leadership is changing for good the conversation about the full value of clean, healthy oceans and reefs.
"We admire the work of FORCE BLUE, uniting Special Operations veterans around service for our oceans, restoring coral reefs, and healing human hearts and minds in the process. There really are no better spokespeople for the many benefits of healthy waters and oceans than these men and women," says Dr. Wallace J Nichols, founder of Blue Mind Works. "We're very pleased to award the 5th Annual Blue Mind Works Award to these planetary heroes."
The award was presented at the Frost Museum of Science in Miami by Dr. Bill Kent of the National Swimming Pool Foundation, last year's award recipient.
"By starting a program that isn't just about helping veterans or just about helping the marine environment, but about helping both, we're really uniting two worlds," said co-founder and Executive Director Jim Ritterhoff. "Hopefully, FORCE BLUE will encourage each to look at the other with a bit more empathy and understanding."
Recognizing the especially heavy emotional, mental and physical burden veterans, active duty military and first responders shoulder daily, FORCE BLUE Operations Director, airman in the Air National Guard, and veteran of Operation Iraqi Freedom and Operation Enduring Freedom, Nicole Rosga stated, "I wouldn't be here without this work. I literally wouldn't be here on Earth."
Past recipients include the community of Carbondale, Illinois who were presented with the award in 2016 for their work to open the Carbondale Super Splash Park -Outdoor Aquatic Facility. The park ideation team included President of the Board of Commissioners Harvey Welch, an African American gentleman whose entire life was changed by his inability to swim as a child. His work within his community engaged leaders and residents alike in their quest to give everyone the opportunity to learn to swim.
Previous recipients of the award also include University of Virginia's Professor of Sustainable Communities, Tim Beatley, for his work with Biophilic Cities Projectaround the world and his groundbreaking book, Blue Urbanism; and Van and Amanda Curaza of Operation Surf, an organization providing surf therapy for veterans throughout the United States and United Kingdom.
The award is a large hand blown glass "blue marble" sphere created by Lundberg Studio in Davenport, CA and is passed to each subsequent recipient.
About FORCE BLUE
FORCE BLUE's mission is to unite the community of Special Operations veterans with the world of marine conservation for the betterment of both.
The idea grew out of a dive trip co-founders Jim Ritterhoff and Rudy Reyes took to the Cayman Islands in Summer 2015 to meet up with their friend, Keith Sahm, General Manager of Sunset House, the oldest continuously operated dive resort in the Caribbean. For Ritterhoff and Sahm, experienced recreational divers who'd been reef diving for decades, this was just another week in paradise. But for Reyes, a former Recon Marine who had struggled with PTS and depression since returning home from multiple tours in Iraq and Afghanistan, the experience was nothing short of life changing. forceblueteam.org
About Blue Mind Works
Blue Mind Works to create a new water story based in the best science and practice, supports and advises those on the frontline of reconnecting people to water, sponsors the Annual Blue Mind Summit, the Annual Blue Mind Award, and shares their message around the world via a wide range of media, events, and workshops. bluemindworks.com
About Wallace J Nichols PhD
Dr. Wallace "J." Nichols, called "Keeper of the Sea" by GQ Magazine and "a visionary" by Outside Magazine is an innovative, silo-busting, entrepreneurial scientist, movement maker, renown marine biologist, voracious Earth and idea explorer, wild water advocate, bestselling author, sought after lecturer, and fun-loving Dad. His experiences as a field research scientist, government consultant, founder and director of numerous businesses and nonprofit organizations, teacher, mentor, parent, and advisor all support his quest to build a stronger and more diverse blue movement. wallacejnichols.org
# # #
Contact Blue Mind Works: bluemindworks.com @bluemindworks info@wallacejnichols.org