Force Blue Partners with Pepsi Stronger Together for "Dive 55"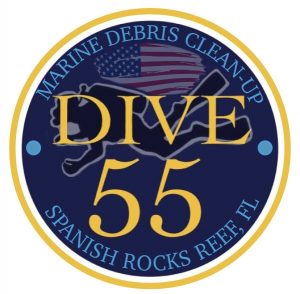 (Sarasota, FL) – At the start of NFL Green Week in Tampa last week, FORCE BLUE partnered with Pepsi Stronger Together to host a day-long marine debris removal operation and beach clean-up on Anna Maria Island, just south of the city at the mouth of Tampa Bay.
Dubbed "Dive 55" in celebration of Super Bowl LV, the event, sponsored by "Pepsi Stronger Together" with support from NFL Green and the Tampa Bay Super Bowl LV Host Committee, featured FORCE BLUE Special Operations veterans leading five teams of 11 divers each on to Spanish Rocks Reef to remove as much ghost fishing gear and as many derelict crab traps from the area as possible.
Volunteer divers representing the Florida Aquarium, Florida Fish & Wildlife Commission, Florida Department of Environmental Protection, NAUI and Tervis, as well as local dive shops Compressed Adventures and Letts Dive, joined the in-water effort.
NFL veteran, Tampa Bay Buccaneers kicker Martin Gramatica turned out to show his support, broadcasting his daily sports radio show from the beach and later jumping in for some debris removal with dive team "3".
Back on land, volunteers from the Florida Aquarium, University of Tampa, University of South Florida, Norwich University and Kids Saving Oceans led a beach clean-up and debris sorting operation, which netted over 100lbs of trash.
Members of the Florida Fish & Wildlife Commission's Law Enforcement Division were on hand to provide security and to ensure ONLY ghost gear and derelict traps were removed by divers.
All totaled, the Dive55 team succeeded in pulling nearly 1.5 tons of marine debris and trash from the Spanish Rocks Reef site.