Force Blue Partners with World of Warships for World Ocean Month!
(MT. PLEASANT, SC) On June 1st, FORCE BLUE announced its newest partnership — this time with global video game company Wargaming Group Limited and their World of Warships brand.  Wargaming will be donating $50K in support of FORCE BLUE's marine conservation efforts, as well as 10% of the net revenue generated from sales of World of Warships' popular Popeye™ items during the month of June (World Ocean Month)!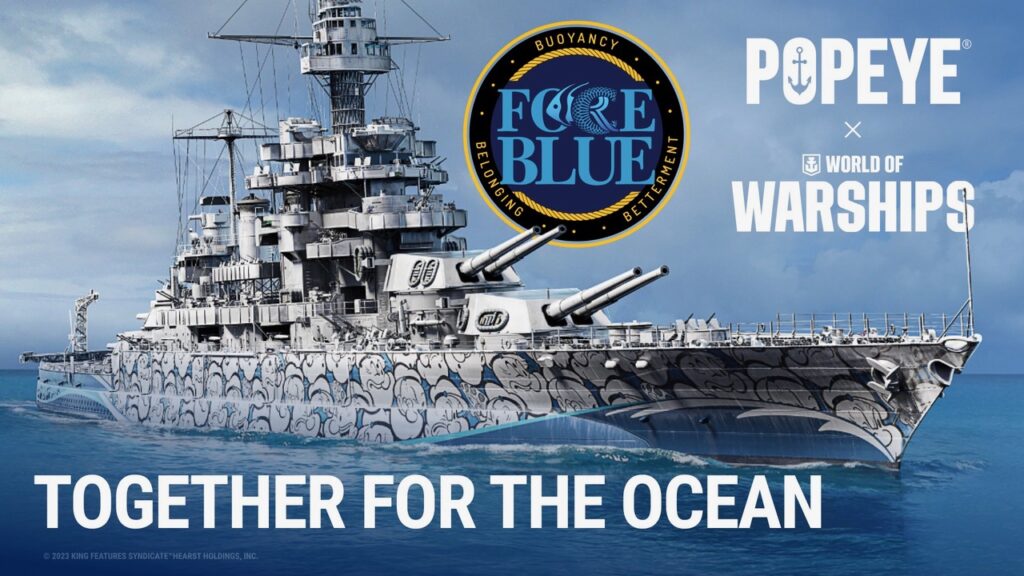 "FORCE BLUE is honored to be partnering with World of Warships in support of World Ocean Month," said FORCE BLUE Executive Director Jim Ritterhoff.   "I don't think there's a single veteran on our team who isn't a fan of Popeye, and so to be working with the two of them, while championing our mission of preserving and restoring the world's marine ecosystems is an incredible opportunity."
About World of Warships
World of Warships is a free, historical, online combat PC game from Wargaming. With its massive fleet of most iconic war vessels, including five different ship classes and strategically designed environment, World of Warships provides the ultimate naval warfare gaming experience, suitable for everyone. Thanks to its largest collection of historically accurate ships available to play, World of Warships prides itself as a digital ship museum and a focal point for naval history enthusiasts. New thematic content and innovative game modes are being added on a regular basis, providing a diverse and exciting gameplay to its broad player base.
About Wargaming
Wargaming is an award-winning online game developer and publisher headquartered in Nicosia, Cyprus. Operating since 1998, Wargaming has grown to become one of the leaders in the gaming industry with 16 offices around the world, including studios in Chicago, Prague, Shanghai, Tokyo, Vilnius and Belgrade. Millions of players enjoy Wargaming's titles across all major gaming platforms. Our flagship products include the free-to-play hits World of Tanks, World of Warships and World of Tanks Blitz.