FORCE BLUE Wraps Up Coral Disease Intervention Work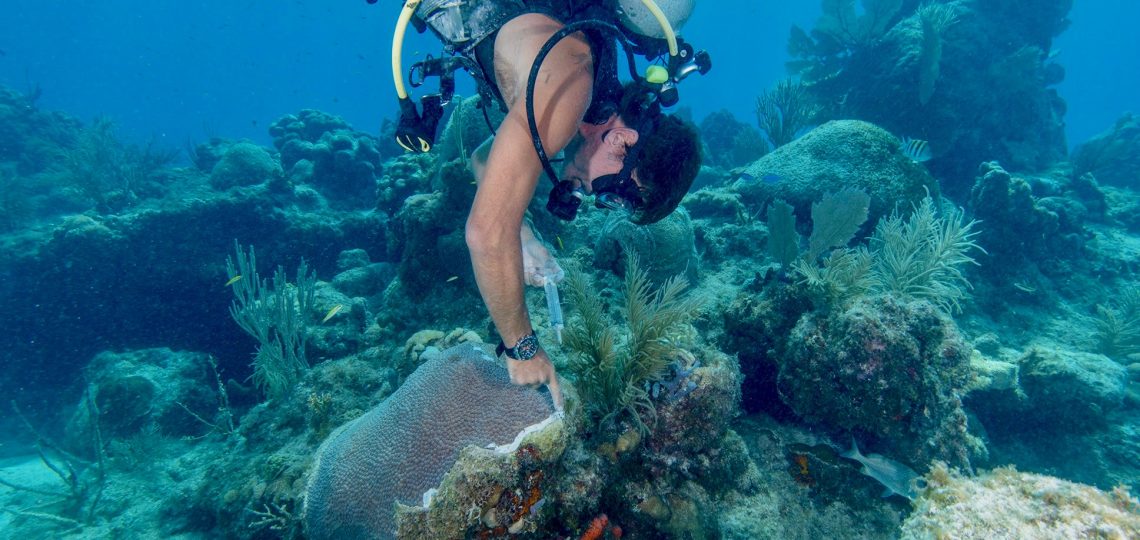 Looe Key, FL – On Saturday, June 15th FORCE BLUE completed its 50th day of in-water operations aimed at treating corals affected by Stony Coral Tissue Loss Disease at priority reef sites throughout the Florida Keys. Funded by Florida Department of Environmental Protection (DEP), partnered with scientists and researchers from Nova Southeastern University, and working from boats provided by Captain Hook's Marina and Dive Center, FORCE BLUE divers have been working since December as part of a multi-partner response to an unprecedented disease outbreak plaguing the Florida Reef Tract .
"We've endured our fair share of adversity and unfavorable conditions in battling this disease" said FORCE BLUE Chief of Operations, Keith Sahm. "But we are incredibly proud of our efforts and those of our partners. Together we launched this rescue mission in December, and early evidence suggests we have given the coral colonies of the Florida Keys a real chance to survive this disease."
"We are grateful to FORCE BLUE for joining our team of partners in the fight against this disease" said Joanna Walczak, Southeast Regional Administrator for DEP's Office of Resilience and Coastal Protection. "From day one they have brought everything they have to the table. FORCE BLUE's 'One Team, One Fight' perspective has inspired our response effort and invigorated the mission to preserve Florida's coral reefs."
Since beginning their in-water work, FORCE BLUE divers have logged 1250 dive hours along an 80-mile stretch of coastline. Using both Amoxicillin and Hypochlorite Epoxy treatments, they have treated over 5,000 lesions on more than 1,200 corals and have enjoyed, in some instances, a 75+% success rate at slowing and/or stopping the disease's spread across individual corals. These in-water treatments are part of a larger disease response effort that seeks to improve understanding about Stony Coral Tissue Loss Disease, identify potential causes, remediate impacts and ultimately restore the affected resources. These activities are essential to preserve and enhance the vital ecosystem functions of Florida's coral reefs.